Hawkins was a small town in Roane County in the state of Indiana.
History
Prior to 1983, Hawkins was a largely quiet and uneventful town. The last person to be reported missing prior to 1983 was in summer 1923, while the last suicide was in fall 1961.[1] The greatest point of interest was the secretive Hawkins National Laboratory, one of several national laboratories which grew out of the scientific endeavors of World War II. Unknown to the residents of the town, the lab was contributing to the controversial government program known as MKUltra.
In November 1983, during experiments at the laboratory, a gate was accidentally opened to an alternate dimension, allowing a predatory creature to enter Hawkins. The monster abducted Hawkins' residents and brought them to the Upside Down. Among its victims were Will Byers, who was brought home after a week, and Barbara Holland, who was killed in the Upside Down. The circumstances of their disappearance was covered up by the agents at Hawkins Lab.
Residents
Included and Nearby Locations
Downtown
Main article: Downtown Hawkins
Roads and areas
Jonathan's map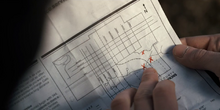 Before Jonathan and Nancy went monster hunting, he showed her a map taken from a telephone directory, where he had marked the locations of the monster attacks: Steve's house, the place where Will's bike was found and the Byers' house. The map also showed the names of several roads in Hawkins, which were probably the main roads.[4]
Streets going North-South: Johnson, Euclid, Monroe, Washington, Madison, Grant, Habersham, North Ave, Piedmont and Hill.
Streets going West-East: Broadway, Briarcliff, Jackson and Henry.
Behind the scenes
Stranger Things was filmed on location in Atlanta, Georgia and surrounding areas. The town square of Jackson in Butts County was used as the location for downtown Hawkins, and many of the stores were repainted and stocked with vintage merchandise for filming.
The show was originally set in Montauk, Long Island, as shown by the pilot script. For various reasons, the Duffers invented Hawkins and used it as the show's location instead.
References
Ad blocker interference detected!
Wikia is a free-to-use site that makes money from advertising. We have a modified experience for viewers using ad blockers

Wikia is not accessible if you've made further modifications. Remove the custom ad blocker rule(s) and the page will load as expected.