Holly Wheeler is a recurring character in the first season of Stranger Things. She is portrayed by twin sisters Anniston and Tinsley Price.
Holly is the younger sister of Nancy and Mike Wheeler and the daughter of Karen and Ted Wheeler.
History
Background
Holly was the youngest child of Ted and Karen Wheeler and the younger sister of Mike and Nancy. She was born around 1980.
Season One
On November 7, 1983, the Wheeler family had a family dinner where Mike and Nancy got into a loud, verbal fight, startling and scaring Holly. Karen became angry with Ted and left the table, taking Holly.
Two days later, Holly and her mother visited Joyce Byers. Holly followed Joyce's flickering Christmas lights to Will's room and saw the monster begin to push through the wallpaper. Joyce asked Holly if she saw anything, and Holly responded with a yes. Joyce then insisted for the two of them to leave.
Three days later, Ted, Karen and Holly were placed under house arrest while agents from the Department of Energy searched their home.
Appearances
Family tree
Gallery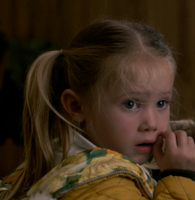 References
↑ Season 1 Chapter 2: "The Weirdo on Maple Street" Holly was 3 in November 1983.
Ad blocker interference detected!
Wikia is a free-to-use site that makes money from advertising. We have a modified experience for viewers using ad blockers

Wikia is not accessible if you've made further modifications. Remove the custom ad blocker rule(s) and the page will load as expected.