This page serves as a list of minor locations in Stranger Things.
Businesses
Bradley's Big Buy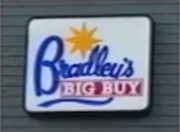 Bradley's Big Buy was a supermarket located in Hawkins. Eleven robbed several boxes of frozen Eggos from the store, causing damage to the store in the process.
Staff
Hawk
The Hawk was a cinema located in downtown Hawkins. Steve, Tommy and Carol sprayed derogatory messages on the front billboard, after Steve thought he saw his girlfriend Nancy sleep with Jonathan which caused both Steve and Jonathan having a fight.
Staff
Hawkins General Hospital
Hawkins General Hospital was a hospital located in Hawkins, Indiana. Will Byers was brought there by his mother Joyce and Chief Hopper to recover after his ordeal in the Upside Down. While there, he was met by both his mother and brother Jonathan, and his friends Mike Wheeler, Dustin Henderson, and Lucas Sinclair.
Hideaway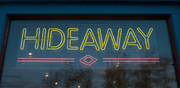 The Hideaway was a pub located somewhere in Hawkins. Hopper went to this pub in order to question David O'Bannon about his discovery of Will's "body". When David refused to answer him, Hopper violently beat him outside the pub to get more information.
A year later, Hopper met with Dr. Owens at the pub where he received a forged birth certificate to adopt Eleven as his daughter "Jane Hopper".
Hunting & Camping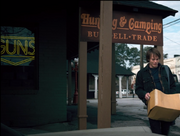 Hunting & Camping was a store located in Downtown Hawkins where Nancy and Jonathan acquired their "monster hunting" supplies.
Staff
Radioshack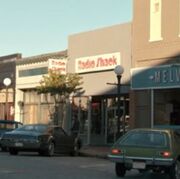 A RadioShack store was located in downtown Hawkins, next to Melvald's General Store. Bob Newby ran this RadioShack.
Staff
Roane County Coroner
Roane County Coroner was a coroner's and morgue located in Hawkins, Indiana, where Will Byers' corpse was stored. Chief Hopper broke into the morgue, cutting open the body with a knife. As he suspected, the body was fake and filled with stuffing.
Staff
Other
Etowah
Etowah is a river in Georgia. Benny Hammond and his friend Earl had plans to go fishing there before Benny's untimely death.[1]
References
↑ Season 1 Episode 2 "The Weirdo on Maple Street"