Nancy Wheeler, portrayed by starring cast member Natalia Dyer, is a major character in the first and second seasons of Stranger Things. At first concerned with simple teenage high school issues, her world is turned upside down when her best friend vanishes, encouraging her to seek out the truth.
History
Background
Nancy was the first child of Karen and Ted Wheeler, and she would later be joined by younger siblings Mike and Holly. Together, the family of five lived at their home in Hawkins, Indiana. Nancy suspected her parents never truly loved one another, and that they married solely to create a "perfect nuclear family".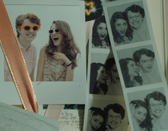 As Nancy and Mike grew up, Nancy became distant from Mike and his friends, although they were close at some point. By the time Nancy attended Hawkins High School, she had become best friends with Barbara Holland. Nancy also had a friend named Cathy.
In 1983, Nancy began dating Steve Harrington, a popular boy at school, making out with him "a couple of times". Nancy and Barb went clothes-shopping one weekend, with Nancy seeking to impress Steve.
Season One
Steve climbed in Nancy's bedroom window to help her study for a test and tried to have sex with her, but Nancy rejected his advances.[1]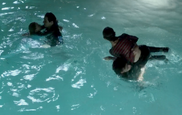 Nancy was invited to a pool party at Steve's house when he was home alone and dragged Barb along. Nancy eventually decided to go up to Steve's room and told Barb to go home. Nancy, unaware of the fact that Barb had been taken by the Monster whilst sitting alone by the pool, lost her virginity to Steve. [2]
The following day, she noticed that Barb was not at school and grew increasingly worried when neither her friends nor Barb's mother had seen her. Nancy went back to Steve's house to look for her, and was startled by a creature in the forest.
Jonathan Byers was revealed to have taken pictures of Nancy in her underwear at the party the previous night, so Steve, along with his friends, destroyed the photos and broke his camera.[3]
Nancy shared her worry about Barb with Steve, but he was more concerned that a police investigation would lead his parents to find out he had a party. Police officers Callahan and Powell questioned Nancy, and she told them she thought Barb was taken by the creature she saw in the forest. They had already searched the forest and found that Barb's car was gone. They theorized that Barb might have run away because she was jealous of Nancy and Steve and revealed to Nancy's mother that Nancy had slept with Steve.
Feeling like something terrible had happened to Barb and nobody was listening to her, Nancy began taking matters into her own hands. She taped together the pieces of one of Jonathan's photographs and saw a creature behind Barb at the pool. She questioned Jonathan about the night he had taken the photographs and told him about the creature, which he recognized from his mothers' description. They went to enlarge the photo, and Nancy was certain it was the same creature she had seen earlier.[4]
At Will Byers' funeral, Nancy and Jonathan decided to return to the forest to look for the creature, and Jonathan took a gun from his father's car. As Nancy was practicing swinging a baseball bat, Steve came by to apologize for his insensitivity and invited Nancy to see a movie, but she had other plans and told him she was busy with the funeral.
She later went to practice shooting with Jonathan and confided to him that she thought her parents married out of convenience, not love. In the forest, Nancy and Jonathan talked about the photo he took and Steve's reaction and ended up lashing out at each other.
After dark, they found a wounded deer. They agreed to kill it out of mercy, but before they could it was suddenly dragged away. Following the blood trail, Nancy entered a hole in a tree and found herself in
another dimension
. She saw the Monster feeding on something and ran away as it gave chase.
[5]
Following Jonathan's voice, Nancy made her way out of the dimension unscathed.
Traumatized by the experience, she had Jonathan sleep over. The following day, she theorized about the monster's nature based on her knowledge about animals, and they bought weapons to face it again. While downtown, she found Steve and his friends tagging slurs about her. She realized that Steve had seen Jonathan in her room last night and tried to explain that he misunderstood. Jonathan and Steve ended up in a fist fight, which led to Jonathan's arrest.[6]
After Chief Hopper and Jonathan's mother Joyce met Nancy and Jon at the police station, they shared everything they knew about the Monster. After finding Nancy's brother Mike and his friends Lucas, Dustin and Eleven, the group decided to build a makeshift sensory deprivation tank, which Eleven could use to look for Barb and Will in the Upside Down. They broke into Hawkins Middle, using the resources there and creating the bathtub in the gymnasium. Eleven floated in the bathtub, entering her deepened psychic state in which she looked for Will and Barb. Although she found Will (barely) alive, she also discovered that Barb had been killed by the Monster.
Nancy, angry at the loss of her friend, became more determined than ever to kill the Monster. She and Jonathan lured the Monster to the Byers household with blood; with the aid of Steve they managed to injure the Monster, which would later be killed by Eleven.
Nancy reconciled with Steve, who celebrated Christmas at her house. She gifted Jonathan a camera as a replacement for the one Steve broke.[7]
Personality
Nancy is stubborn and rash but feisty, kind, jolly, smart and independent with strong morals.
Relationships
Appearances
Memorable Quotes
"It's not like that..."/"It wasn't like that..."
"My mom was young. My dad was older, but he had a cushy job, money, came from a good family. So they bought a nice house at the end of the cul-de-sac and started their nuclear family." — On her parents' marriage.[5]
Trivia
Nancy's old dress is worn by Eleven.
Out of all characters that have physically entered the Upside Down, Nancy has spent the least amount of time there.
Gallery
References
Characters in Stranger Things
Major Characters
Recurring/Minor Characters
Creatures
Articles may contain spoilers.
Ad blocker interference detected!
Wikia is a free-to-use site that makes money from advertising. We have a modified experience for viewers using ad blockers

Wikia is not accessible if you've made further modifications. Remove the custom ad blocker rule(s) and the page will load as expected.