Stranger Things: Season 2 - Final Trailer
Spoiler Warning!

This article or section reveals details from the upcoming second season. Read at your own discretion...
Stranger Things 2, the upcoming second season of the Netflix original Stranger Things, is set to be released on October 27, 2017.
Stranger Things 2 was confirmed by Netflix on August 31, 2016 for a 2017 release. An announcement trailer revealed the second season will consist of nine episodes as well as showing the working title for each episode.[1] Filming of the season started in Atlanta, Georgia on November 7, 2016.[2]
Set in Hawkins in the fall of 1984, the story continues as supernatural forces once again begin to affect the town.[3] While the season will service the first season's core cast and characters first and foremost,[4] several new characters have been revealed: tomboy Max and her older step-brother Billy, a woman named Roman connected to Hawkins Lab, RadioShack manager Bob Newby, Department of Energy agent Dr. Owens and disgraced journalist-turned-conspiracy theorist Murray Bauman.[3][5][6]
Storylines
An official season two logline posted with a casting breakdown read: "When terrifying supernatural forces once again begin to affect Hawkins, they realize Will's disappearance was only the beginning. And so the adventure continues..."[3]
During a panel at New York Comic Con, David Harbour revealed that season two might further explore the death of Hopper's daughter Sarah.[7] He also said the love triangle between Nancy, Steve, and Jonathan will continue.[8]
Producer and director Shawn Levy described the season as being about "this determined desire to return to normalcy in Hawkins, in the Byers family, in that group of friends, and it's the struggle to reclaim normalcy and maybe the impossibility of it."[2]
The announcement trailer revealed that the season will be set in the fall of 1984, a year after the previous season. Matt Duffer said "we will venture a little bit outside of Hawkins," adding that the opening scene will not take place in the fictional town.[9]
In an interview with Entertainment Weekly, the Duffers and cast members revealed more plot details. They explained that Will's visions of the Upside Down may be real, or could be a result of post-traumatic stress disorder. Hopper will be trying to keep the events of the previous year covered up in order to protect the kids and Joyce. Meanwhile, Nancy and Mike will be mourning the loss of their friends, Barb and Eleven. Max will befriend the boys and attract the romantic interest of Dustin and Lucas, while her step-brother, Billy, is hinted to be a possible antagonist. Dustin will also bond with a polliwog-like creature that's "not from this planet or this dimension".[10]
While Eleven's exact role in the season is still unknown, Matt Duffer teased she will play a major part, saying: "We do get into her story and backstory. We learn about where she came from and how she came into the world and the program that resulted in her." Millie Bobby Brown also stated that her storyline will be an "emotional transition."[11]
Cast and characters
Confirmed cast
Episodes
Titles are still subject to change before the release.[16]
Influences
Seeing season two as a blockbuster movie sequel, the Duffer Brothers stated that "the [sequels] we look up to aspire to pivot and do something different," naming Spielberg's Indiana Jones and the Temple of Doom and James Cameron's Aliens and Terminator 2 as examples. Matt Duffer said "I think we kinda looked to [James Cameron] and what he does and tried to capture a little bit of the magic of his work."[9] Shawn Levy said they also noted Empire Strikes Back as a sequel that worked.[4]
Development
Season two was green-lit by Netflix before the first season premiered on July 15, 2016. Ross and Matt Duffer spent the summer writing in a rental in Lake Hollywood, which they set up as a writers room.[16] The second season was announced to the public at the end of August. The producers had already mapped it out and gotten a broad understanding of what it would look like, while the actual writing was still "very much in process."[4] The Duffers said they were "nearly ready" to wrap up writing and move on to casting and pre-production at the end of September.[16]
The actors had received the first couple of scripts by early October.[8]
Crew
The writers from season one, including Justin Doble and Jessie Nickson, have been kept on board, while writers' assistant Paul Dichter was promoted to staff writer.[4]
Just like for the previous season, the Duffer Brothers directed the first two episodes while Shawn Levy directed the third and fourth. Levy prepared around Thanksgiving and filmed his episodes through December and January.[2] Andrew Stanton, most well known as a director and screenwriter for Pixar Animation Studios, directed the fifth and sixth episodes.[17] On March 22, Stanton announced he had finished directing his episodes.[18]
Casting
Executive producer Shawn Levy said they will service the core group first and foremost, while also adding a handful of new characters.[4]
During a panel at New York Comic Con, David Harbour and Millie Bobby Brown heavily implied that Eleven would return.[19] After rumors that Eleven's return was confirmed had circled on the internet for over a week, it was officially confirmed on November 4 when a photo of a table read, where Brown was present, was posted on the official Facebook and Twitter accounts.[12]
When asked if fan-favorite Barb would return for the second season, the Duffer Brothers stated that they "can't see it happening," but promised there would be justice for her character. They also suggested that Dr. Brenner, whose fate was left open-ended in season one, would be seen again.[20]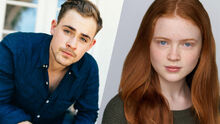 The Duffer Brothers revealed in an interview that four new characters will be introduced.[20] They later added that the characters are Billy, Max and two new adults: one is involved in Joyce's life, whereas the other is involved in the labs.[21]
In a casting breakdown obtained by the Hollywood Reporter, two regular characters and one potential regular character was revealed with a name and description: Max, a tough and confident 13-year-old tomboy with a tough past; Roman, male or female aged 30-38, an outsider with a troubled childhood; and Billy, Max's super muscular, overconfident step-brother, who has a violent and unpredictable nature.[3] Matt Duffer said they did a "wide, wide search for one new kid that we're adding. She's a cool new character," most likely alluding to the character Max.[16]
On October 14, 2016 it was announced that Sadie Sink had landed the role of Max and Dacre Montgomery had been cast as her step-brother Billy. Additionally, Noah Schnapp and Joe Keery were promoted from recurring to regular cast members.[13][22]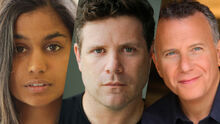 Three new additions to the cast were announced on November 7, 2016. Danish actress Linnea Berthelsen was cast in the role of Roman, who was revealed to be the adult character "mysteriously connected to the supernatural events at the lab." Sean Astin was cast as Bob Newby, a nerd who formerly went to high school with Joyce and Hopper and now manages the local RadioShack. Paul Reiser was cast as Dr. Owens, "a high-ranking member within the Department of Energy on a 'clean-up' assignment, tasked with containing the events of last year."[5]
On November 18, 2016 The Hollywood Reporter confirmed that Brett Gelman had joined the cast as Murray Bauman, "a disgraced journalist-turned-conspiracy theorist who is investigating a cold case in Hawkins."[6]
Casting TaylorMade, the company that handled extras casting for season one, were brought on for season two. They posted a casting call looking for males and females ages 17 and older with 1980s hair styles, as well as vehicles from the period, with filming "beginning this November."[23]
On May 3, 2017, TV Line reported that actor-singer Will Chase had been cast as Neil Mayfield, who was described as "the father of a family of recent transplants to Hawkins, Indiana from California."[15]
Production
On October 31, David Harbour posted a picture of himself in his Chief Hopper costume with the caption "Hopper's back," confirming that he was back on production.[24]
In the first week of November 2016, table reads for a "bunch of episodes" started.[25] The season was officially confirmed to be in production on November 4, 2016 in a social media post by Stranger Things. It was accompanied by a photo of some of the cast members at a table read.[12]
At the beginning of May 2017, Finn Wolfhard told Emmy Magazine that the second season would be much darker and more horror-oriented than the first.[26]
Filming
Filming of the season started on November 7, 2016.[2]
An extras casting call revealed that filming was planned for November 11, 15, 16 and 18 for scenes at the Middle School and November 14, 15 and 16 and December 8 at the High School.[27]
On November 14, 2016 photos of the cast on set in Atlanta were published. Seen in the photos were the main cast of kids and teens from the previous season, minus Millie Bobby Brown and Natalia Dyer, though who appeared to be a body double for Nancy was present. Chelsea Talmadge, who portrays the recurring character Carol, was also present. None of the new cast members were spotted, but the names Max and Billy were seen on the cast trailers, implying that newcomers Sadie Sink and Dacre Montgomery were present that day.[14]
By early April, the final two episodes had commenced filming, shooting scenes in woodland seen previously in Season 1.[28] On June 3, filming for the season officially wrapped.[29]
Music
Kyle Dixon and Michael Stein returned to compose a new score for season two. They were working on it by early 2017. In an interview, Dixon stated that "There are new characters, fun, and the upside-down will be more of a place—you'll spend more time," and said "we'll make a lot more weird music this time around."[30]
Dixon and Stein introduced new styles of composition for Season 2 and created new elements that were "necessary to support the story." Still, they stated that they "want to remain true to the sound of Season 1" and revisited old themes "when appropriate."[31]
Two weeks prior to the premiere of Season 2, the release of the soundtrack album was announced along with the track list and the song "Walkin' in Hawkins". It was set for digital release on October 20.[31]
Marketing
Announcement Trailer
The season was announced in a trailer published across social media on August 31, 2016, listing the titles of the episodes. Netflix was initially going to use a trailer with content from the first season and had the idea to announce the season using the title sequence, but the idea to include the chapter titles came from the Duffer Brothers. Matt Duffer said they had titles they didn't want to add to the trailer because they were too revealing, and some of the announced titles are still subject to change.[4][16]
Superbowl Spot
At the 2017 Superbowl, a 30-second ad premiered, revealing footage from the first four to five episodes. The footage included the Season 1 characters Eleven, Hopper, Dustin, Lucas, Mike, Will and Joyce, and teased a new supernatural threat to Hawkins.
The ad also announced that the season would be released on Halloween (October 31). However, the release date was later changed to October 27.
San Diego Comic-Con
Netflix scheduled a Stranger Things panel for the 2017 San Diego Comic-Con with the show's cast and creators. The panel revealed the season's first full-length trailer featuring never before seen footage.
Retro posters
As part of the online marketing campaign for Season 2, the show's social media accounts released a variety of posters featuring
Season 1
characters and elements. These posters served as homages to 1980's cinema, the
principal influence
on the show.
Stranger Things: The Game
In the weeks leading up to Season 2's release, a Stranger Things mobile game was released. The game contains exclusive footage from Season 2, and will update on the day of the season's release.
Trailers
References
↑ "Stranger Things 2 | Netflix" YouTube. August 31, 2016.
↑ 2.0 2.1 2.2 2.3 2.4 2.5 2.6 2.7 "'Stranger Things' Season 2: Shawn Levy Confirms He's Directing Again; Teases Season 3" Collider. November 8, 2016.
↑ 3.0 3.1 3.2 3.3 "'Stranger Things': Meet the 3 New Characters Joining Season 2" The Hollywood Reporter. September 1, 2016
↑ 4.0 4.1 4.2 4.3 4.4 4.5 "'Stranger Things' Producer on New Characters and Casting "Famous People" for Season 2" The Hollywood Reporter. August 31, 2016.
↑ 5.0 5.1 5.2 5.3 5.4 "Stranger Things 2 exclusive: The Goonies, Aliens stars join Netflix series" Entertainment Weekly. November 7, 2016.
↑ 6.0 6.1 6.2 "'Stranger Things' Enlists Brett Gelman for Season 2 (Exclusive)" The Hollywood Reporter. November 18, 2016.
↑ "David Harbour and Millie Bobby Brown Tease Stranger Things Season Two at New York Comic Con" Vulture. October 7, 2016.
↑ 8.0 8.1 8.2 8.3 "'Stranger Things' Cast Reveals Season Two Secrets at New York Comic Con!" Just Jared. October 7, 2016.
↑ 9.0 9.1 "Stranger Things exclusive: Duffer Brothers reveal season 2 details" Entertainment Weekly. August 31, 2016.
↑ "Stranger Things season 2: Who's in danger? Who's new? The plot revealed!" Entertainment Weekly. February 9, 2017.
↑ "Stranger Things 2 : Where is Eleven?" Entertainment Weekly. February 9, 2017.
↑ 12.0 12.1 12.2 12.3 12.4 12.5 "Back in production. See you next year." Stranger Things on Facebook. November 4, 2016.
↑ 13.0 13.1 13.2 13.3 13.4 http://mashable.com/2017/05/09/stranger-things-season-2-will-byers-new-characters/#duGfF5bqPaqE Mashable, 9th May 2017
↑ 14.0 14.1 "Where's Eleven? Caleb McLaughlin, Gaten Matarazzo and Finn Wolfhard seen on Stranger Things season two set for first time" The Daily Mail. November 15, 2016.
↑ 15.0 15.1 "Stranger Things Season 2: Nashville Vet Will Chase Joins Cast as [Spoiler]"TV Line. May 3, 2017.
↑ 16.0 16.1 16.2 16.3 16.4 "The Duffer Brothers Are Reading Your 'Stranger Things' Reddit Theories" The Hollywood Reporter. October 12, 2016.
↑ 17.0 17.1 17.2 17.3 17.4 17.5 17.6 17.7 "Finding Dory director to helm 2 episodes of Stranger Things 2" Entertainment Weekly. February 10, 2017.
↑ "David Harbour and Millie Bobby Brown coyly tease Stranger Things season 2" A.V. Club. October 7, 2016.
↑ 20.0 20.1 "Find Out the Fate of Two Stranger Things Characters" IGN. August 19, 2016.
↑ "The Duffer Brothers on 'Stranger Things Season 2' – BTS Interview | THR Photoshoot" The Hollywood Reporter. YouTube. October 12, 2016.
↑ "'Stranger Things' producer says Will Byers is 'at the center of Season 2 ' after his trip to the Upside Down" Mashable. May 9th, 2017
↑ "'Stranger Things' Season 2 Atlanta Open Casting Call" Project Casting. October 11, 2016.
↑ "Hopper's back" Instagram: @dkharbour (David Harbour). October 31, 2016.
↑ "The Producer Of Stranger Things Talks Impossible Season Two Expectations" Gizmodo Australia. November 3, 2016.
↑ "Stranger Things Season 2 Will Have More Horror In It" io9. May 1st, 2017
↑ "'Stranger Things' Season 2 Atlanta Casting Call for Kid Actors" Project Casting. October 22, 2016.
↑ Tim Ives' Instagram post April 6, 2017.
↑ "Stranger Things wanted its music to be "something people talked about"" Ars Technica. March 13, 2017.
↑ 31.0 31.1 ""Stranger Things" Season 2 Soundtrack Announced, New Song Shared: Listen" Pitchfork. October 12, 2017.
Ad blocker interference detected!
Wikia is a free-to-use site that makes money from advertising. We have a modified experience for viewers using ad blockers

Wikia is not accessible if you've made further modifications. Remove the custom ad blocker rule(s) and the page will load as expected.