Spoiler Warning!

This article or section reveals details from the upcoming second season. Read at your own discretion...

The Shadow Monster[1] is the potential next threat to Hawkins in the second season of Stranger Things.
Description
The monster is a gargantuan and spider-like creature, seemingly originating from the Upside Down. It appears to have four appendages that split in the middle, possibly giving it a total of eight "legs".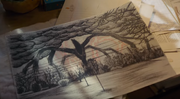 Behind the scenes
Matt Duffer told Entertainment Weekly that the shadow monster was inspired by horror classics: "There's an H.P. Lovecraft sort of approach, this inter-dimensional being that is sort of beyond human comprehension."[1]
Theories
Many fans have compared the entity to the Thessalhydra, which was mentioned in Chapter Eight as the final boss of the boys' Christmas Eve D&D campaign.
Gallery
References
↑ 1.0 1.1 "Stranger Things 2: Behind the sequel's big, bad 'shadow monster'" Entertainment Weekly. September 28, 2017.
Ad blocker interference detected!
Wikia is a free-to-use site that makes money from advertising. We have a modified experience for viewers using ad blockers

Wikia is not accessible if you've made further modifications. Remove the custom ad blocker rule(s) and the page will load as expected.