"Chapter Two: Trick or Treat, Freak" is the tenth episode of Stranger Things and the second episode of the second season. It premiered on October 27, 2017. 
Synopsis
After Will sees something terrible on trick-or-treat night, Mike wonders if Eleven is still out there. Nancy wrestles with the truth about Barb.
Plot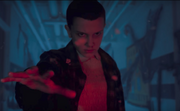 In a flashback,
Eleven
awakens to find herself in the
Upside Down
, just after disintegrating the
Demogorgon
. Although scared and frightened at first, because of being unable to find Mike, she then escapes through the portal the Demogorgon had created. She makes her way to
Mike's
house where she sees him being talked to by government personnel telling him that her stories were not true. Mike doesn't believe that but as he turns away, he catches a glimpse of Eleven through the window. Realizing that she is in danger, Eleven runs off into the forest to hide.
In the present, Hopper makes breakfast for him and Eleven as she walks in, dressed as a ghost, and asks if she can go trick-or-treating for Halloween. She believes that she will not be noticed with the sheet over her, but Hopper refuses because it is too dangerous. Although disappointed, Eleven agrees to his offer of having a night in together with candy and scary movies. Hopper then finds out that more pumpkin farmers in Hawkins have found their crops rotting mysteriously.
Nancy talks to Steve about Barb, saying that they should tell her parents about her death. Steve insists not to because the government will come after them.
At the cabin, Eleven is watching TV when she hears a noise coming from outside. Going over to the window to investigate, she sees a squirrel, causing her to remember an occasion where she was approached by a hunter as she was cooking a squirrel she had killed. After rendering the hunter unconscious, she stole his coat and hat for warmth.
Dustin and Lucas invite Max to go trick-or-treating with them, Mike and Will. She doesn't initially accept. When school ends, Max goes home with her stepbrother Billy who attempts to run over Mike, Lucas and Dustin. Max grabs the steering wheel so they miss the boys.
Nancy and Steve attend a Halloween party where Nancy gets drunk and tells Steve that she does not love him which causes him to leave.
Jonathan
takes her back home. The boys go trick-or-treating dressed as the Ghostbusters, and Max ends up joining them. Mike, who was unaware of Dustin and Lucas' invitation, is disgusted as he thinks she is ruining the best night of the year. Will has another episode experiencing himself back in the Upside Down as a shadowy monster in the sky attempts to catch him. Mike takes Will back to the Wheelers' basement, where Will explains that he felt he was trapped in between the real life and the Upside Down. He also requests Mike not to inform anyone about it. Mike tells that Eleven would have understood it as she always did.
Back at the cabin, Eleven tries to contact Mike through the Void, but fails. Mike reveals it has been 353 days since Eleven disappeared, and he has been attempting to contact her daily. Seeing his repeated endeavour, Eleven wept in tears because of her failure to communicate with Mike. Dustin then goes home when he hears a noise in the garbage bin, he opens it to find something inside.
Cast
Music
Soundtrack
"Ghostbusters (Instrumental Version)" by Ray Parker Jr. - The boys are getting dressed up for Halloween as their parents take photos.
"Wango Tango" by Ted Nugent - Billy complains about having to move to Hawkins as he drives Max home.
"Blackout" by Swing Set - Jonathan drives Will to meet his friends.
"Shout at the Devil" by Mötley Crüe - Steve, Nancy and Billy at the Halloween Party.
"Islands in the Stream" by Kenny Rogers & Dolly Parton - Bob and Joyce dance around her living room.
"Monster Mash" by Bobby Boris Pickett - Max and the guys continue trick-or-treating; Mike tells Will that Max's presence is ruining his night.
"Girls On Film" by Duran Duran - Jonathan arrives at the Halloween Party.
"Outside the Realm" by Big Giant Circles - Mike tells Will it feels like Eleven is still around; Jonathan drives Nancy home, helps her to her room and tucks her into bed.
"Ghostbusters" by Ray Parker Jr. - Dustin flips off the garbage can lid and peers inside; end credits.
Original Score
"Walking Through the Upside Down"
"This Isn't You"
"Presumptuous"
"Tree Slime"
"Eggo in the Snow"
Gallery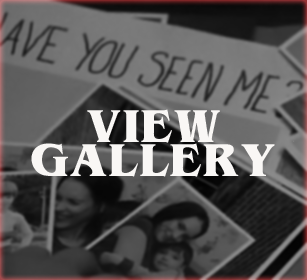 Notes
On August 31, 2016, the second season was announced through a trailer published across social media, listing the titles of its nine episodes. The trailer shows that Chapter Two was originally titled "The Boy Who Came Back To Life". This is a reference to Will Byers, who is referred to as such in the heading of a newspaper article in "The Upside Down".
In the scene before Billy drives the car recklessly with Max in the passenger seat, there is a panned shot of the water tower, car park and Max on her skateboard. The water tower has digital cellular transceiver antennae around it. Digital cellular networks were not invented until at least 20 years later.
References